Ayinger Oktober Fest 12oz 4pk Bottles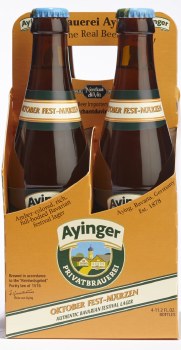 Germany
Ayinger Oktober Fest 12oz 4pk Bottles
$13.99
Description
BEER INFO

ABV 5.8%
IBU
Marzan
Germany

Note: This ist the filtered version of the Ayinger Kirtabier. If your beer is cloudy, please check there.

Ayinger Oktober Fest Märzen has a deep golden color tinted with amber. It is lightly sweet with a malty nose balanced with floral hops. Its medium to big body and alcohol is not overpowering. The soft dryness comes from long maturation.
Reviews
Customer Reviews
This product has not yet been reviewed.