Local delivery for orders from $35!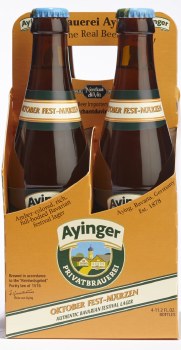 Ayinger Oktober Fest 12oz 4pk Bottles
$11.99
*Product Image may not represent actual product packaging
BEER INFO

ABV 5.8%
IBU
Marzan
Germany

Note: This ist the filtered version of the Ayinger Kirtabier. If your beer is cloudy, please check there.

Ayinger Oktober Fest Märzen has a deep golden color tinted with amber. It is lightly sweet with a malty nose balanced with floral hops. Its medium to big body and alcohol is not overpowering. The soft dryness comes from long maturation.