Local delivery for orders from $35!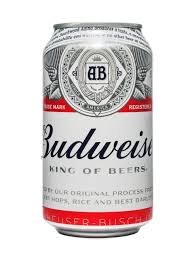 Budweiser 6,12, Or 24pk Cans
$7.99
180162: mix and match:
1
$7.99
2
$7.00
3
$5.66
4
$5.00
*Product Image may not represent actual product packaging
Note:- One $7.99 (One 6pk Cans)
Two $13.99 (12pk Cans)
Three $16.99 (18pk Cans)
Four $19.99 (24pk Cans)


Beer Info
Missouri
ABV 5%
IBU None

Brewed and sold since 1876, Budweiser is distributed in more than 70 countries. Budweiser leads the U.S. Premium beer category, outselling all other domestic premium beers combined. In fact, one in almost every five beers sold in the United States today is a Budweiser.

"We know of no brand produced by any other brewer which costs so much to brew and age. Our exclusive Beechwood Aging produces a taste, a smoothness and a drinkability you will find in no other beer at any price."

"Brewed with 100% natural ingredients. We use only the finest hops, barley malt, rice, yeast and water. We craft and age Budweiser using time-honoured brewing methods."