Local delivery for orders from $35!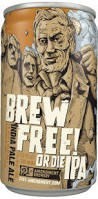 21st Amendment Brew Free or Die IPA 12oz 6pk Cans
$11.99
*Product Image may not represent actual product packaging
BEER INFO

ABV 5%
IBU
IPA
California

Brewed with serious Weast Coast attitude. This aromatic golden IPA starts with a sucker punch of six different hops to the nose, quickly balanced by a solid malt backbone. Starts big and finishes clean.