Bruery Melange no. 14 Imperial Stout 750ml Bottle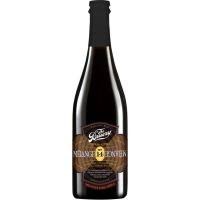 California
Bruery Melange no. 14 Imperial Stout 750ml Bottle
$31.99
Description
BEER INFO

Brewed by:
The Bruery
California, United States
thebruery.com

Style: American Strong Ale

Alcohol by volume (ABV): 13.40%

Availability: Limited (brewed once)

Notes / Commercial Description:
Our Mélange series is a chance to roll out the barrels, roll up our sleeves and explore flavors that cannot be achieved outside of the art of the blend or by any one beer. French for "blend", this mélange fuses the mature character of some of our most vintage barrels of barelywine and old ale with the dark depth of our imperial stouts, including both Tuesday-themed releases and Share This. This mélange is one for all, with rich, complex notes and the signature kiss of oak.

This beer is retired; no longer brewed.
Reviews
Customer Reviews
This product has not yet been reviewed.